Winter Wild Spices
Wild Winter Spices
During the winter, there is still an abundance of delicious wild food that we can enjoy as an interesting complement to standard holiday cooking. A few of my favorites include Toyon, Manzanita, Madrone and California Bay.
Toyon, an evergreen bush with red berries, also known as California Holly, is reportedly the origin of the name Hollywood, as Toyon bushes used to cover the Hollywood hills. It is an easy plant to grow and provides its bright red berries in the heart of winter. Use Toyon in wreaths and arrangements and surprise guests with a glass of hot Toyon cider. Dry the berries first and then sweeten the cider as desired.
Manzanita is one of my favorite natives, with each berry filled with sweet powdered sugar. Enjoy Manzanita sugar on hot chai or cocoa or add in to muffin and cookie recipes.
Though abundant in the late summer and fall, you can still find berries on the bush through the winter and the berry sugar is on now available on store shelves.
Madrone berries are delicious right from the tree. Madrone are evergreen trees with orange, peeling bark. Since the mature trees are tall, look for berries at the base of the tree or on low branches. Eat fresh or cook for just a few minutes with other fresh veggies.
California Bay is our local substitute for the Mediterranean species of Bay sold commercially. Bay trees grow near water, typically shaded by other trees. Use the leaves to flavor soups and stews, typically ½ of the amount called for in recipes since the local Bay is highly aromatic.
Never gather anything from the wild unless you are 100% sure of its identification and it is growing in significant abundance, away from a road. All of these evergreen natives are available at nurseries to add beauty and local spice, right to your home.
Recipes
Toyon Cider
– Cover dried berries with water.
– Bring to a boil and simmer for 20 – 30 minutes
while crushing berries.
-Strain and sweeten as desired.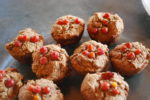 Manzanita Muffins
1 1/2 cups flour (wheat, Oak nut, or other gluten-free substitute)
1cup Manzanita sugar
2 tsp baking powder
1/2 tsp salt
1 cup mashed ripe bananas
1 cup soy, rice, oat, dairy or other milk
1 egg
2 tbsp vegetable or sunflower oil
2 tsp lemon juice
1 1/2 cups wild or local seasonal fruits, fresh or frozen (3/4 cup dried)
Method
– Preheat oven to 400 degrees.
– Line muffin pan with paper cups or
vegetable oil.
– Mash bananas in a mixing bowl and stir in milk,
egg, oil and lemon juice.
– In a separate bowl, mix together dry ingredients—
flour, Manzanita sugar, baking powder, salt.
– Add wet ingredients to the dry and then gently
stir in fruit.
– Bake for approximately 20 minutes.
Makes 12 muffins.
Article appeared in Briarpatch Coop Newsletter, Dec 2013/Jan 2014-by Alicia Funk
Recipes from Living Wild—Gardening, Cooking and Healing with Native Plants of California.