Wild Holiday Recipes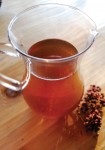 TOYON CIDER Collect berries in winter.
METHOD
– Cover dried berries with water. – Bring to a boil and simmer for 20 – 30 minutes
while crushing berries. – Strain and sweeten as desired.
TIP Toyon cider has a wonderful aroma and color. Fresh berries can be used, but dried berries are much sweeter.
ROSE HIP TEA Collect hips in early winter.
2 tbsp fresh or 2 tsp dried Rose hips per cup of water
METHOD
– Remove stems and ends. – Cover with water and boil for 20 minutes. – Strain through a colander into a bowl and set aside Rose hips. – Serve hot or cold.
TIP After making tea, add used Rose hips to soups or serve as a side dish. To dry Rose hips, place a single layer on a cookie sheet covered with wax paper, and keep in a dark, ventilated area for several weeks.
ROSE HIP MEAD (medicinal, alcoholic)
1 lb wild Rose hips (makes 1 gallon Rose hip concentrate), 1 quart raw honey, 1 quart filtered water, Wine culture or 1⁄2 tsp bread yeast, airlock, siphon hose
METHOD
Concentrate – Make Rose hip concentrate by grinding Rose hips
roughly in a blender for a few minutes.
– Bring 6 cups water to a boil and add blended Rose hips.
– Turn off heat and let stand for several hours until water has cooled.
– Strain through cheesecloth into mason jars.
Mead – Pour 1⁄2 gallon Rose hip concentrate and all remaining
ingredients into a gallon jar and place airlock on the top of the jar.
– Let stand 3 weeks or until the bubbling slows.
– Siphon off into smaller airtight jars and keep refrigerated until ready to serve.
Submitted by Anna Wereditsch, L.Ac.
OAK NUT GINGERBREAD Collect nuts in fall.
11⁄4 cups prepared Oak nut flour (see tip below) 11⁄4 cup flour (wheat or gluten-free substitute) 2 tsp baking soda 1⁄2 tsp salt 1 tsp cinnamon 1 tsp ginger 1⁄2 tsp cloves 2 eggs 1⁄2 cup sugar 1 cup molasses 1⁄2 cup oil 1⁄2 cup boiling water
METHOD
– Preheat oven to 350.
– Sift dry ingredients together.
– Mix eggs, sugar, molasses and oil in separate bowl.
– Combine dry and wet ingredients. Add boiling water and stir until smooth.
– Pour into oiled 8″x12″ dish and bake for 40 minutes.
OAK NUT BLISS BAR Collect nuts in fall.
1 stick butter, 1 cup brown sugar, 1 egg 1 tsp vanilla, 1⁄2 cup gluten-free flour, 1⁄2 tsp salt, 2 cups prepared Oak nut flour (see tip below), 1 cup dark or semi-sweet chocolate chips, 3⁄4 cup shredded coconut
METHOD
– Preheat oven to 350. – Use mixer to blend egg, vanilla, butter and brown sugar. – In a separate bowl, sift together the gluten-free flour, salt and 1⁄2 cup of the Oak nut flour. – Combine the dry into the wet ingredients and press the batter into an greased 8″x10″ pan. – Bake for 40 minutes, remove from oven, then cover.– Mix together remaining Oak nut flour and coconut and spread on top of chocolate.– Allow to cool.
OAK NUT CHOCOLATE MARZIPAN
(Gluten-free) Collect nuts in fall.
1 cup sugar, 1⁄4 tsp cream of tartar, 1 cup ground almonds, 1 cup prepared Oak nut flour (see tip below), 1 egg white, lightly beaten, 2/3 cup water, 6 oz organic dark chocolate, Powdered sugar for dusting, Candy thermometer
METHOD
– Finely grind almonds and Oak nut flour and combine in a bowl.
– Heat sugar and 2/3 cup water in a saucepan until sugar dissolves.
– Add cream of tartar and bring to a boil until the temperature reaches exactly 240 on a candy thermometer. Watch temperature closely. If texture is too hot, it will be too stiff. If it is too soft, add extra almond or Oak nut flour.
– Remove from heat and place saucepan in a basin of cold water, stirring until thick.
– Add flour mixture and egg white and return to low heat, stirring until creamy.
– Cool slightly and then knead batter just until smooth.
– Make balls using hands or a spoon and place balls on a cookie sheet lined with parchment paper.
– Place tray in freezer for 15 minutes befire dipping into the chocolate.
– Melt chocolate in a double boiler.
– Use spoon to dip marzipan balls into melted chocolate.
Freeze for several hours before serving. Submitted by Karouna Thompson.
MAKING OAK NUT FLOUR
Oak nut flour is gluten- free and adds a good source of nutrition to any recipe, with higher amounts of essential fatty acids, folate, potassium, Vitamin A and calcium compared to wheat flour. It is denser than wheat flour and combines well with other types of gluten- free flours.
GLASS JAR METHOD (see LIVING WILD book for other methods.)
– Estimated Time: 1 – 2 weeks. This is the simplest method but takes the longest amount of time.
– Shell acorns using a hammer and remove thin red skin.
– Grind to a fine powder in food processor.
– Place in a mason jar, cover with water, and label with the expected completion date.
– Change water daily until clear, tasting for lack of bitterness.