Douglas Fir Treats
Celebrate Spring with Douglas Fir
Filled with Vitamin C in early spring, Douglas Fir tips offer an abundance of choices for creating delicious and healthy treats. Here are some of my favorites. Send me yours if you come up with a recipe you love!
Douglas Fir Treats
TEA: The most basic way to enjoy fir tips is as a tea. Bring 4 cups of water to a boil. Turn off the heat, add 1 cup fir tips and let steep for 20 minutes. Strain and sweeten if desired. Keep refrigerated and drink hot or cold.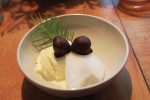 DOUGLAS-FIR TIP SORBET (Vegan) Collect tips in the spring, when bright green in color.
Ingredients: 3 cups water, 1 cup sugar, 1 quart fresh or frozen Douglas-Fir tips plus a few extra to use as garnish
METHOD
– Bring water and sugar to a boil, stir, and turn off heat. – Add Fir tips and steep covered for 30 minutes. – Keep liquid and use a fine mesh strainer to remove tips. – Chill overnight in refrigerator. – Freeze in ice cream maker according to manufacturer's directions. – Garnish sorbet with extra Fir tips and serve.
-by Peggy & Bob Wright @ Treats, Nevada City
DOUGLAS-FIR PROBIOTIC SODA Collect young tips in spring.
FIR TIP SODA INGREDIENTS
2 cups fresh Fir tips, chopped 1⁄2 cup sugar Fliptop bottles
GINGER STARTER INGREDIENTS
1 quart jar, 2 tsp sugar, 2 tsp freshly chopped ginger, Cloth jar cover with rubber band
GINGER STARTER METHOD
Make a Ginger Starter (called a "Bug") 1 week ahead. – Put all ingredients into a quart jar. – Daily, for 7 days, feed your starter 2 teaspoons sugar and 2 teaspoons chopped ginger. Keep jar covered with cloth and rubber band. – When bubbles form and start to make sounds, the starter is ready. Strain out what is needed to make soda and keep 1⁄4 cup for a new starter. For a new starter, add the starter ingredients to 1⁄4 cup reserved starter and follow method again.
FIR TIP STARTER METHOD
– Bring 4 cups water, 1⁄2 cup sugar and 2 cups chopped Fir tips to a boil. Turn off heat and let steep until cool.
– Mix 1 cup strained ginger starter per 1 quart unstrained Fir soda and pour into fliptop bottles.
– Let sit in warm location for 2 – 5 days and test for flavor. If desired, let sit longer to create more carbonation and less sweetness. Open lids to let air out of bottles once a day.
– Keep refrigerated. Strain when serving, garnished with fresh Fir tips.
NOTE This "soda" is a very good digestive aide that is also very high in Vitamin C.
-by Anna Wereditsch, LAc., Haalo, Nevada City
DOUGLAS FIR JEWELRY: Remove the needles and bend the ends of fir boughs to make circular rings for necklaces or earrings.