Wild Lilac Wake Up Tea (Ceanothus), Bay Nut Chocolate Clusters, Ceanothus Baskets
March 11-18
11 Wild Lilac Wake Up Tea After I tasted the Ceanothus variety called Deerbrush (Ceanothus integerrimus), I decided to send it to the lab to verify how it compared to green tea. It had many of the same, health-promoting antioxidants without the caffeine. Today, I powdered the dried leaves first, and then used ½ tsp to 1 cup of water, steeped for only 2 minutes. It has a delicious green-tea taste and provides a stimulating and energizing effect!
12 Bay Nut Chocolate Clusters These delicious nuts have a stimulant effect. I gathered them last fall and then my friend Karouna tested the recipe in the book. The trick is to roast them exactly 35 minutes at 350 degrees. Too long seems to burn them and too short makes them taste too strong. Melt chocolate, add nuts and place spoonfuls on wax paper in the freezer for 15 minutes. (See p. 82 of the Living Wild book.)
13 Watercress at the meadow; I enjoyed a taste of delicious watercress still growing in the creek.
14 Manzanita Cider; Photo shoot of Karouna's beautiful baskets to offer for sale, new experimental style made of invasive Scotch Broom and her classic Wild Lilac (Ceanothus) baskets.
15 Started leaching Matt Berry's collection of different species of acorns to send in for nutritional analysis
16 Wild Lilac tea (dried from last fall); Dropped off samples of Wild Lilac at Treats for potential ice cream experimentation….
17 Manzanita Blossom jam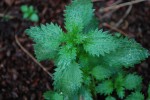 18 Nettle Tea (snow day; no collection)