Wild Celery, Currant Flowers, Bay Leaf Ice Cream
March 19-31
19  Manzanita/Douglas Fir Cider Simmer 4 cups leftover seeds/skin from making Manzanita sugar to 12 cups water for 20 minutes. Add 4 cups Douglas Fir branches and turn off heat. Let steep for 10 minutes. Strain and refrigerate. Use within 1 week.
20 I tried Currant flowers on my salad (Ribes nevadense). They don't have a lot of flavor, but add nice color to a spring salad. It is a beautiful landscape plant to grow.
21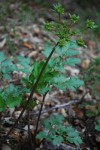 Tauschia (also called Wild Celery; Tauschia hartwegii); This plant is found throughout shaded canyons up to 4,000 feet. The stalk has a delicious celery-like crunchiness and distinct flavor that is wonderful chopped raw on salads or added to stir fry's.
22 Manzanita Cider (iced)
23 Manzanita Cider (iced); Wild turkeys roosting in the tree at dusk.
24 Miner's Lettuce Salad; Wild Granola with Manzanita Sugar and Oak Nut Flour. I cooked 6 cups Oats with 1 cup Canola oil on 350 degrees for about 30 minutes, then added ½ cup Oak Nut Flour and ½ cup Manzanita sugar. It tastes delicious.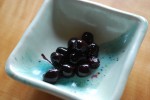 25 Dogwood Fruits I gathered these in the fall, put them in a jar with water and kept them in the refrigerator. I forgot about them until tonight, but somehow, they are still delicious and don't even taste fermented. They are so similar to a kalmata olive in texture and flavor. I added salt to the jar and will check again in a few days to see how they taste.
26 I spotted the first wildflowers today, Shooting Stars and Hound's Tongue; Sipped Manzanita cider and even convinced my four-year-old to try it!
27 Enjoyed a hike and a few bites of the stem of Tauschia.
28 Bay Leaf Ice Cream. Treats in Nevada City agreed to experiment with making our local California Bay leaves into an ice cream for the upcoming Bill McGibbin event at the foundry. I did a taste test for the first time today and it was over the top delicious!! I can't wait to serve it at the event. Thank you Treats! Recipe to be posted soon.
29 I made a big jar of Manzanita Cider for the walk tomorrow. (See the 19th for the recipe.)
30 Manzanita Blossom Jam on Toast, Led Hike at Hirshman's Trail, with a wonderful group of participants, ages 2-96! We saw many native plants, including Manzanita in blossom, Doug Fir, Madrone, and Cattail. Non-native Scotch Broom is taking over the trail. Join the work day on April 14th, 9-12 to help remove it.
31 I added finely sliced Tauschia to my salad; Enjoyed seeing two colors of Hound's Tongue in bloom.