March: Weeds I Love
March: This blog is part of my goal to use wild, native ingredients daily and is a monthly record of my family's wild food adventures.
1 Collected Watercress (fresh); Processed (dried) Manzanita Berries: tried grinding in commercial grain grinder but due to moisture which must have collected, the berries gummed up the machine. I'm back to hand processing into sugar!
2 Manzanita Berries (dried): Added to wild granola recipe for tangy sugar. packed with antioxidants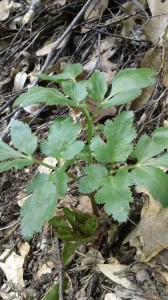 3 Wild Celery: The stalks are delicious to chew on (fresh).
4 Chickweed: collected from garden; it is so fun to eat the weeds! Chickweed is high in many minerals and popular for assisting in weight loss. I chop the upper part of the plant and add to salads.
5 Miner's Lettuce (fresh): Salad Greens
6 Miner's Lettuce (fresh): Salad Greens
7 Miner's Lettuce & Manzanita Flower Salad (fresh)
8 Nettle Tea (fresh): I'm so excited to see the first fresh nettles appear. Collect with gloves and dry, blend or cook to eat. The delicious flavor is well worth getting over the fear of the sting with a sturdy pair of gloves.
9 Yellow Dock (fresh): Slightly bitter, but still delicious added to our other veggies for dinner.
10 Yarrow (fresh): Chopped fresh greens and added to our family's fresh green stir fry.
11 Weed of the Day: Cleavers (dried, cooked, blended). Scientific Name of Galium aparine, this non-native annual is appearing all over my backyard. Its leaves and stems have an abundance of small hairs and hooks and it will stick to clothing. It has a long history of use throughout England as a spring tonic and cleansing diuretic. The taste is neutral and it is best dried, juiced in a fresh green smoothie or chopped and added to a soup or stir fry.
12 Weed of the Day: Wild Celery added to stir fry's and soups; Ripe Manzanita Flowers!
13 Acorns: The "oak nuts" are leached after 6 days using the jar method. Grinding the pieces as small as possible, without turning them into flour, seems to make the process go significantly faster.
14 Granola: Make wild granola with acorn flour and manzanita sugar.
15 Redbud blossoms: They are finally here! These beautiful blossoms have a mild flavor but are a beautiful addition to spring salads or cornbread.
16 Maidu Museum lecture, "A Spring Feast." I served Douglas Fir Tip tea from frozen tips, Manzanita cider, Miner's Lettuce and Chickweed Salad with Manzanita blossoms, Manzanita crackers topped with local goat cheese and Chokecherry jam that I canned last summer, Redbud Cornbread, Douglas Fir Tip Sorbet from Treats, Nevada City.
17 Pearly Everlasting tea (dried): My son's nose is stuffed up again; making him the "flower tea" of Pearly Everlasting. It has a mild taste which he doesn't mind.
18 Weed of the Day: Chickweed salad (fresh)
19 Weed of the Day: Cleavers (fresh); Make sure to chop finely before cooking. Cooking destroys the "sticky" quality of the stems.
20 Poison Oak Away: Today I made more for Briarpatch, Haalo & California Organics. It seems too early for poison oak but they are already emerging, dense with rash-producing oils, along the trails. The spray contains manzanita leaves, ceanothus (buck brush) flowers, oak bark, and bay leaves and is easy to make yourself by bringing water to a boil and soaking ingredients overnight. Strain into a spray bottle. I've also heard that traditionally, eating manzanita flowers will help prevent getting the rash in the summer, so I'm going to eat as many as I can.
21 Weed of the Day: Dandelion (fresh)—Pulled up healthy dandelion growing in the garden and chopped the greens to add to other fresh weeds and veggies.
22 Wild Weed Pesto: I blended chickweed, nettles and garlic from the garden with olive oil and walnuts from our tree. It was delicious over pasta and I will make some more to freeze or can before the weeds are too bitter, later in the spring.
23 Miner's Lettuce Salad with last Manzanita flowers & Manzanita Vinaigrette, which has finally become our family's accepted, nightly salad dressing.
24 Manzanita  Cider: I made another big mason jar of this today. It is so refreshing served cold. I'm experimenting with a new method of simmering just the manzanita sugar and let it steep overnight. It is almost too sweet without any sugar!
25 Bolete Mushrooms (dried): Re-hydrated mushrooms by covering with water for a few hours and added to stir fry of veggies and fresh weeds (nettles, cleavers, yarrow)
26 Manzanita Viniagrette: Wild granola with oak nut flour and manzanita sugar
27 Manzanita Cider, Miner's Lettuce Salad with Redbud blossoms (fresh) and Oak Nut Marzipan (frozen) served at Yuba Watershed event at Szabo winery
28 Nettles with Yellow Dock leaves (fresh) steamed.
29 Manzanita sugar; Make by grinding berries and sifting out seeds; Put in spice jars for sale to local stores and to add to our morning oatmeal.
30 Dandelion leaves (fresh) in stir fry; tastes even better than spinach or chard!
31 Nettle enchiladas: I substituted nettles for kale in my veggie enchiladas and it was delicious. I really like the rich flavor of nettles and am thrilled I'm over my fear of the sting.