June: Pearly Everlasting & Morel Mushrooms
June
1 National Trail Day Walk, Hirschman Pond, Bear Yuba Land Trust: I led a really fun natural treasure hunt with individuals from the group FREED (Center for Independent Living) and lots of families with kids. We hiked to the pond, identifying native plants and then returned to sip on Manzanita Cider and Douglas Fir tea while the kids made native plant bookmarks.
2 Madrone Bark and Wild Lilac Tea: This combination is especially delicious since the Madrone bark taste
3 Kit Kit Dizze: The leaves are wonderfully aromatic and I gather to use in my California Bay cleaner and as a tea for colds.  This plant is also called Miner's Misery, but I'm sticking with its traditional name.
4 Nettles: The nettles I planted this spring came up, despite being neglected and left to fend for themselves without water. Cooking, blending or drying takes away the sting and they can easily be gathered wearing gloves. I added fresh garlic and snow peas from our garden.
5 Morel Mushrooms: I sautéed some wild morel mushrooms today for dinner, given to me by my friend Daniel Nicholson. I dried the remainder for enjoying later. Morels must be cooked thoroughly or dried before eating.
6 Elderberry Soda: I've continued feeding my ginger starter and am making more elderberry soda. I'm soaking my oak nuts overnight and then blending to leach and make into flour.
7 Pearly Everlasting: I'm thrilled to see my favorite flower emerging again. I gather it and keep it as dried arrangements to use as the first defense against colds. My kids even love the taste of the tea.
8 Native Flower Arrangement & Wild Gift Basket for Syrcl Auction: This arrangement included Mock Orange with its fragrant white flowers and leaves to use for soap, Yarrow flowers for fever, Pearly Everlasting for colds, Manzanita leaves for poison oak and the deep red Spicebush flowers, with a bark that is used for sore throats. The basket contained a Living Wild book, Manzanita sugar, CA Bay Cleaner, Bug Spray and Poison Oak Away. The auction was a community event to raise money to protect the Yuba river and bring back the salmon. Check out www.syrcl.org.
9 Grindelia (Gumweed): This inconspicuous yellow flower is starting to bloom. I gather it up to use in my poison oak remedy and also use dried as a tea for winter lung congestion.
10 Horsetail: This summer beauty is "approved" in Europe as a tea for urinary tract inflammation and also externally as a compress for injuries.
11 Douglas Fir Soda: So my ginger starter is ready and I mixed up a batch of soda, using the spring tips of Douglas Fir as the base. The cooler weather is slowing down the carbonation process.
12 Wild Grape Leaves: I gathered these earlier in the season and they kept really well in the refrigerator. I followed my recipe for stuffing them with rice and wild berries (manzanita sugar, elderberries), but next time want to include more lemon and add "steaming" to heat them.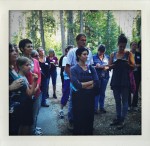 13  Briarpatch Coop Event: Hike, Eat & Drink on the Wild Side. We did a fun hike to identify some of the edible native plants in the woods and then did a tasting and demo of a few favorites..wild cherry fruit leather, elderberry probiotic soda, Douglas fir soda, manzanita cider, watercress salad with manzanita dressing, manzanita & elderberry muffins and oak nut marzipan.
14 Thimbleberry: I went up to Tahoe for father's day and saw a beautiful patch of Thimbleberry at my inlaws home. The flowers are already blooming, which means the berries will be coming soon! Three years ago, I planted Thimbleberries in partial shade at my elevation (2,200 feet) but they still haven't produced flowers and fruit. The plants look healthy so I'm still
15 Elderberry Soda: I made another batch, this time without any sugar in the juice, just a teaspoon of honey. My daughter drank the last of the Doug Fir Probiotic Soda and said it was her favorite. It tastes like sparkling lemonade and is filled with vitamin C. Leftovers of manzanita salad dressing on salads.
16 Grindelia: Gathered Grindelia for poison oak remedy and for lung congestion.
17 Doug Fir and Elderberry Soda: I'm keeping my ginger starter going with 2 tsp of sugar and 2 tsp of chopped ginger (skin on) daily. We drank more of the soda tonight. My 14-year-old daughter loves it. I just hope its not because of the small amount of alcohol that is probably in it!
18 Muscle Salve: My son gathered ingredients for a muscle salve: Yarrow leaves, Calendula blossoms (non-native, but very soothing), and Cottonwood buds. I steeped the herbs for several hours in warm oil, strained and then added pieces of beeswax. Test consistency by putting a spoon in the mix and then in the freezer. Pour immediately into glass jars and then let cool. I immediately tested it on my daughter's sore muscles from ballet class and it seemed to work within minutes. I used it on my tight neck, with good results, and my son's strained ankle.
19 Yarrow: Useful for fevers and also for making beer, I collected a bunch to dry today. Goal: Make a summer Yarrow ale. It requires purchasing a few brewing supplies but other than that is pretty simple to do.
20 Elderberry Soda: We are enjoying this as our nightly drink instead of red wine. It is a probiotic dinner drink that helps with digestion and tastes really good. This batch I made without any sugar in the Elderberry juice and I think it still tastes flavorful and fruity.
21 Grindelia: Last call for collecting this yellow flower, also called gumweed, due to the sticky substance around the buds.
22 Owl Sighting: The kids found a sweet pygmy owl outside our door during the middle of the day. Luckily, it flew away on its own.
23 Horsetail: I gathered more of these beautiful water-loving reeds and dried for tea to use for
24 Wild Lilac (Ceanothus): Steeped for 2 minutes, this green-tea substitute is a great way to wake up. It tastes really similar to green tea and becomes bitter when steeped too long. Goal: Discover other ways to roast or dry the leaves to achieve different flavors.
25 Elderberry & Manzanita Soda: I can't get tired of this. It is so good. This batch is a combination of Elderberry and Manzanita Berries and I think it is even tastier.
26 Muscle Salve: I used the salve we made with the primary ingredient of Cottonwood buds. The oil has separated a bit, so I should have added more beeswax and stirred occasionally while it was cooling.
27 Elderflower Champagne I started brewing this with fresh elderflowers, water, sugar and vinegar. It takes a few weeks before it is ready to drink as a sparkling, champagne substitute.
28 Manzanita Granola with Oak Nuts: The kids and my husband love eating this for breakfast almost daily.
29 Blackberries: These non-native, wild berries are almost delicious enough for me to forgive them for taking away habitat from the native berry species! My family had so much fun today gathering the berries and eating them fresh. The native variety has three leaves and the non-native variety has five leaves.
30 Headed to New York City: Eating my chokecherry (wild cherry) fruit leather to keep the connection to the woods alive. I'm probably not going to see many plants over the next few days.
31 NYC