Everyday Wild Food Log
This is a log of the wild foods and native plant medicine I use with my family. I've been keeping a log for the past two years and it helps remind me to pay attention to what is available each season. It challenges me to keep integrating more of what is available from the local landscape into our daily lives. I hope you find it a source of inspiration and apologize for the rough, note-like format. Complete recipes are available in the Living Wild book or feel free to email me with any questions.

APRIL
28 Ceanothus Flowers; Yarrow/Oak Nut Ale
27 Mugwort: Nettles: I gathered for making my bug away spray and then put on the gloves for gathering the nettles. I added them to our stir fry and dried some for tea. Goal: Try to dry the seeds; and use as a nutritious topping on salads: Make nettle soup.
Bug Away Recipe: Fill Mason Jar with Mugwort, CA Bay & Coyote Mint Blossoms. It is fine if you only have one or two of the native plant ingredients. Cover with hot water and steep overnight. Strain into a spray bottle and enjoy the summer at dusk!
26 Wild Celery: The stalks are so tasty chopped raw into salads or chewed on the trail.
25 Manzanita Muffins: My son helped me make some tonight and he is such a picky eater but he still loves them!
24 Poison Oak Away: Manzanita leaves; Ceanothus Flowers
23 Oak Nut Yarrow Ale: Sipped on some of my friend Daniel's delicious brew.
22 Nettle Enchiladas: My daughter made these tonight.
21 Wild Pea Tips: We enjoyed this delicious salad green, which seems to last for about 2 months.
20 Sheep Sorrel & Wild Strawberries: Today's Wild Harvest – Purslane & Wild Strawberries! Sheep Sorrel has a delicious, lemon-like flavor and is delicious as a raw salad. The wild strawberries are the drought-tolerant native species that grows easily as a groundcover, with flavorful, small berries.
19 on the road
18 on the road
17 on the road
16 Scotch Broom: My nemesis!
15 Blue Flax: I gathered and dried these beautiful wildflowers to use as a tea for fevers this winter.
14 Cottonwood Buds: I slept funny on my neck last night and used this salve. It is amazingly effective on pulled or sore muscles.
13 Scotch Broom: Pulling more as they start to flower and become obvious…the never-ending job.
12 Grey Pine Pollen: The grey pines are ready and I'm off to collect the mild-flavored, yeast-like pollen.
Cover the pollen head with a glass jar or bag and shake gently. Add to popcorn, rice, salads or anything else that uses yeast.
11 CA Bay: Gathered more bay leaves today. They are keeping the bugs out of my stored Manzanita and I'll make up another batch of CA Bay Cleaner.
CA Bay Cleaner
Fill Mason Jar with CA Bay Leaves. Cover with hot water and steep overnight. Strain and use as household cleaner and to keep bugs away.
10 Truckee: Met the Moonshine Ink gals for a film shoot about local food innovations. We wandered around on the mountain to find the best Green leaf Manzanita. It is already starting to blossom at the higher elevations and in the Nevada City area, the berries are starting to get some red color. It is so amazing the diversity of food sources at higher elevations—gooseberry, currants, fir, spruce, manzanita, elderberry and so much more…Goal: Taste as many types of Manzanita as possible (54 species in CA).
9 Redbud blossoms—so beautiful and delicious on our salad.
8 Ceanothus leaves (deer brush): Just prior to blossoming, I'm collecting the leaves to dry and drink as tea. GOAL: Taste as many types of Ceanothus as possible this year and compare flavors. Try grinding the seeds into a flour (traditional use).
7 Miner's Lettuce—Not as plentiful or as large in size from my wild sources this year. I planted some seeds and hope they will come up in abundance next year.
6 Star Tulip—I don't recommend eating when it isn't in abundance, but the root of this spring flower, hides deep below the earth. It is edible raw or cooked and tastes like a mild onion.
*5 Blue-eyed Grass—This beautiful fever remedy is in bloom. Gather the stems and blossoms and dry for use as a tea for winter fevers.
4 Santa Barbara Event/Yarrow & Roasted Oak Nut Ale: Daniel brewed this amazing beverage and primed it with Manzanita Sugar instead of Cane sugar. I think using Manzanita Sugar in beer-making, may be a global first! It had a low level of carbonation and full-flavored taste. I love the concept of medicinal alcohol!
3 Santa Barbara Botanical Garden Event/Oak Nut Marzipan: Karouna made a batch for the event which I taste-tested….This is such an unbelievable recipe.
2 Santa Barbara Botanical Garden Event/Coyote Mint Chocolates: Made raw chocolates with Coyote Mint leaves instead of the Yerba Santa which is in my book. They are absolutely delicious and the recipe is really surprisingly simple. The leaves have a subtle mint flavor and were used for stomachaches and as an aphrodisiac.
1 Scotch Broom: I wish I could find a way to convince every neighborhood to pull scotch broom. Producing 30K seeds that survive drought and fire, doesn't seem to be enough to inspire. We've been working to pull it from our land for the past 5 years. Most of the large ones are finally gone, but I spent hours this morning pulling the babies. Some were already flowering. Read my blog, Why Its Sexy to Pull Scotch Broom for details…
MARCH
31 Nettles—Gathering tops to dry and grind for tea.
30 Redbud—Gathering the blossoms now for salads and cornbread! The trees I planted last year are finally in bloom.
29 My Witches Flu Brew of local ingredients to fight the latest virus…Elderberry, Grindelia, Rose Hips, Oregon Grape..Recipe at http://www.livingwild.org/spring-blog-posts/local-flu-brew/
28 Cottonwood buds: I went and looked for these today, but unfortunately missed them. I made them into a muscle salve we've been using for the last year, and now I won't have any fresh ones to use.
27 Dandelion Petal Salad—The blooms are emerging and I want to start using them in new ways this year…adding to salads and planning on soup.
26 Nettles—More of this nutritious gem; made into pesto and frozen for future use.
25 Scotch Broom Pull.
24 Sheep Sorrel—Found this weed in my garden today. Its lemony flavor is delicious in salads. Use the leaves, without the stems.
23 Chickweed—they are starting to go to seed, so using quickly in salad and juicing.
22 Ceanothus blossoms—gathering for use in my poison oak remedy.
Poison Oak Remedy
Quart Mason Jar
Manzanita Leaves (fill jar)
Ceanothus Blossoms (any species, as available)
Cover with hot water and let steep overnight. Strain into a spray bottle and use at first exposure to poison oak and reapply as needed.
21 Wild Pea Shoots—Still emerging and great in stir frys.
20 Wild & Hand Woven Easter Baskets—I picked up these beautiful baskets from a local woman named Laughter, who gathers the local materials, including Red-twig Dogwood, Buckbrush and Blackberry and weaves these gems. My son loves to gather his eggs in the spring and use it as a container for special treasures throughout the year.
19 Wild Peas, Chickweed, Nettle Stir Fry w/garden onions
18 Nettle Enchiladas—These are so delicious and a nutrient-dense spinach substitute.
17 Chickweed Salad, Nettle Stir Fry: My nettle and chickweed patches are so strong this year that I'm going to be relying on this for our family's greens until our garden gets going.
16 Mugwort & Deerbrush Tea: I've written about these plants as a Maidu treatment for colds and congestion, but this was the first time I've relied on it. I ran out of my Yerba Santa and was so impressed at how quickly this worked.
15 Wild Pea Shoots: I can't believe these are ready already. This invasive plant is a wonderful salad green addition or substitute.
14 Poison Oak remedy, Scotch Broom pull: The poison oak is already starting to get its green leaves in some places. Pulling scotch broom with my son, we ran into quite a bit of it, so I'll have this ready-to-use if we get the rash. Boil Manzanita leaves, Oak bark, Ceanothus flowers for 10 minutes and then strain into spray bottles. Add a little vinegar or alcohol to preserve.
13 Oak Blossoms & Spring Acorn Songs: Did you know that an oak blossomed? These showy male catkins are the flowers and will pollinate the female blossoms, in the base of the twigs. An oak typically doesn't start producing acorns until it is 20 years old, and produces the most quantity when it is 50-80 years old. In spring, the Maidu would sing to the spirit of the black oaks, to ensure an abundant acorn crop. What a beautiful way to appreciate this abundant food staple. Here is a link to a site that has several acorn blossoming songs to listen to. ?ytirn jo jekunnaj
black oak acorns • blossoms • beginning
12 Yerba Santa tea (again): Three times a day! Maybe yerba santa cough drops would be good to make this year.
11 Yerba Santa & wild mint tea: I seem to have gotten the congestion my daughter was fighting off last week. Now I'm stuck sipping dried yerba santa tea. I combine it with wild mint and they work so effectively to clear congestion and let me breathe again. I just noticed the new yerba santa leaves are starting to emerge from the plants.
10 Wild weed pesto: What a treat to enjoy fresh nettles and chickweed pesto on our pasta tonight. Even my 15-year-old daughter liked it.
9 Chickweed salad: I'm so happy to find these green, nutritious weeds popping up in my garden each year. Eaten raw, they are wonderful to enjoy before conventional garden lettuce is even close to ready.
8 Redbud blossoms: I've started to notice these edible blossoms on the trees in the wild, but not yet on the ones I've planted around my house.  They are wonderful added to a spring weed salad.
7 Miner's lettuce: The greens are just emerging but I can't wait to taste their almost lemon-like flavor. I've decided to plant them this year and hope they will last longer than the ones that emerge on their own in the garden and wild.
6 Ceanothus blossoms: Their white blossoms are one of the first signs of spring and their aroma is intoxicating. I gather them and dry for use in my poison oak treatment (combined with Manzanita leaves).
5 Yarrow/Oak Nut Ale—I picked this up from my friend Daniel Nicholson who had been saving it from our last event. It is so tasty and light. He also gave me some blackberry wine I can't wait to try.
4 Elderberry soda—my daughter's fighting off a cold and one of the remedies I've been giving her is the delicious elderberry soda, so good for the immune system and delicious. She's also been forced to sip on yerba santa/Oregon grape root tea…not so delicious but good for lung congestion and fighting infection.
3 Manzanita Vinaigrette; Oak Nuts—Leftover from yesterday's feast and so delicious on our evening greens. Started drying oak nuts after leaching. I really have to do a fine grinding to make the leaching of tannins go quickly.
2 Wild Food Feast—Our friend Thomas Dunklin came over with a wild bounty of venison, traditionally prepared oak nuts that resembled tofu in consistency, and chantrelle mushrooms. We added miner's lettuce topped with Manzanita vinaigrette and elderberry/doug fir soda. What a treat!
1  Toyon—drying, grinding: Found a bush with berries later than most of the other bushes.
FEBRUARY
28 Manzanita Blossoms: Experiment with drying them. They seems to keep their sweetness, including the aroma, when dried under low heat.
27 Ceanothus (deer brush, wild lilac) leaves: The first leaves are appearing, which I'm drying and then using as a substitute for green tea. It has similar catechins and stimulating properties without the caffeine.
26 Elderberry Soda: I made the Elderberry tea today, and then prepped the soda using 1 cup of ginger starter to 1 cup of elderberry juice. It is a wonderful substitute for red wine with dinner.
25 Doug Fir Soda: Enjoyed tasting the Doug Fir Soda today…so similar to lemonade in flavor, but even sweeter, without any added sugar, and more refreshing.
24 Manzanita Flour: I'm taking my dry Manzanita berries and grinding into a flour for use in baking.
23 Ginger Starter: Continue feeding the starter, 2 tsp ginger, chopped and 2 tsp sugar each day until bubbles start to form on the top.
22 Bay nut surprise—Taught a class to the Sutter Butte guides and found an abundant supply of bay nuts, still on the trees. The Buttes, called middle mountain and the birthplace of both the Maidu and the Wintu tribes, is a beautiful and sacred spot, accessible only with a guide.
21 Ceanothus flowers—The first buckbrush flowers are blooming. The smell is unbelievably wonderful and can be used as a soap or mixed into a poison oak remedy with Manzanita leaves.
20 Yarrow leaves—Gathered the fresh leaves and chopped to add to salad.
19 Manzanita blossoms—They are so sweet right now! I look for the ones with the ants, shake them off gently and enjoy.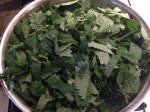 18 Nettles—These are emerging after the recent rains. I love to cook with them in recipes and also to dry and drink as a tea.
17 Toyon berries—trimmed and dried above the wood stove.
16 Toyon berries—My daughter collected another round of berries to dry and grind into a spice. I'm surprised there are still some on the bush into February.
15 Nettle Enchiladas—some nettles have already started coming up, enough to gather with gloves and then mix with veggies to make enchiladas. They are tastier than spinach and even more nutritious.
14 Elderflower Tea; Miner's Lettuce Salad—I'm using dried elderflowers since he has a low-grade fever. We gathered enough miner's lettuce from the garden to enjoy the freshly emerged miner's lettuce.
13 Pearly Everlasting, Wild Mint Tea—For my son's cold and tastes good enough for a 6-year-old to drink.
12 Weeds & Flowers—yarrow greens, mugwort fresh greens, Manzanita blossoms
11 Toyon berries—Gather the last ones still available. Most are gone already. Dry and grind to use as spice.
10 Doug Fir—Finish off the Fir tea. Amazingly, this is made from the tips I had frozen from last year.
9 Doug Fir Probiotic Soda—Fir tips are starting to turn bright green with new spring growth, made a ginger starter a few days ago and today made the fir tea to turn into soda.
8 Yerba Santa/Grindelia Tea—Fighting off lung congestion and cough.
7 Flu Fighter Recipe—To treat my daughter's cold.
1 cup Grindelia (dried flower buds, supports lungs)
1 cup Yerba Santa (dried leaves, breaks up congestion)
1 ½ cup Oregon Grape (root, fights infection)
1 cup Douglas Fir (vitamin C)
1 cup Manzanita berries (antioxidant, sweetener)
honey to taste if needed
* If all of the above plants are not available, use what you have.
Method: Fill pot with water and bring to a boil. Add Oregon Grape root and simmer for 20 minutes. Turn off heat and add remaining ingredients. Let steep covered for 10 minutes. Strain herbs and drink. Sweeten if needed.