Manzanita Cider, Manzanita Blossoms at Historic Sac Cemetery
February 9-16
9 Watercress and Miner's Lettuce Salad
10 Manzanita Cider  It was actually in the 70's today, so I made a refreshing Manzanita cider from berries collected this summer and served it on ice.
Make sugar by grinding berries on medium low in food processor or blender for two minutes. Use a wooden spoon to press crushed berries through mesh strainer and into a bowl. To make the cider, simmer the leftover seeds and skins in 12 cups water. Simmer for 20 minutes and then strain. Keep refrigerated and drink cold or hot. Note: Manzanita berries are 3 times higher in antioxidants than blueberries.
11 Manzanita Cider
12 Manzanita Cider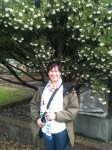 13 Manzanita Blossoms at Sacramento Cemetery Cassandra and the California Native Plant Society in Sacramento created a beautiful native plant garden on the historic graves. If you are in Sacramento, take a moment to stroll through the graves, learning about past citizens as well imagining how current and future citizens can enjoy native plant diversity.
14 Miner's Lettuce
15 Miner's Lettuce
16 Ceanothus tea (dried leaves) Keep an eye out this spring for leaves of deer brush (C. integerrimus). They taste like green tea and have similar antioxidants, without the caffeine. Steep for 3 minutes.