Welcome to The Living Wild Project!
Join this collaborative project of communities in the Sierra Nevada and neighboring urban areas including Sacramento and the Bay Area:
Post a favorite recipe, health remedy or artwork using native, wild plants
Subscribe to our newsletter to discover new recipes and gardening tips
Enjoy a class or step outdoors for a walk on the wild side
Order a copy of the Living Wild book
---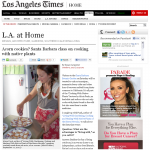 Acorn cookies? Santa Barbara class on cooking with native plants
BY SUSAN CARPENTER
Visitors to the Santa Barbara Botanic Garden on Saturday will be treated to oak nut marzipan, manzanita berry cider and other hors d'oeuvres crafted from plants common to California. It's all part of the "Cooking With Native Plants" lecture by Alicia Funk, an herbalist and author who not only cooks with plants found in the wild but also uses them to make medicine.
I caught up with Funk, author of "Living Wild: Gardening, Cooking and Healing With Native Plants of the Sierra Nevada," to talk about the Saturday event:
Question: What are the advantages to "living wild," as you call it?
Answer: Besides the fun of being outdoors, it moves us closer to an independent, carbon-free lifestyle. Eating local produce and growing… Read Full Interview
---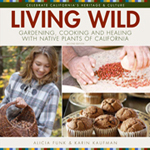 I published Living Wild—Gardening, Cooking and Healing with Native Plants of California, to encourage our community to bring local sustainability to a new level and have fun doing it.The Living Wild Project offers a way to deepen our relationship with the land we inhabit, support local biodiversity, and fundamentally shift the way we eat, garden, and heal.
- Alicia Funk